Ania Zofia since 1985 offers Special Occasion cocktail wear, mother of‍ ‍the‍ ‍bride / groom, evening & wedding gowns.
Ania Zofia is experienced in haute couture and Special Orders are her speciality.
Ania Zofia uses mainly natural silk and other fine fabrics, gaining her reputation with hand painted silk. Ania Zofia's designs are impeccably finished to the highest standards and are available at some of‍ ‍the‍ ‍best specialty shops & boutiques throughout the United States and Canada.
To name a few occasions, her designs have been worn by elegant women to official parties at the White House, a state dinner for Princess Diana, and featured on stage at the Country Music Awards in Nashville and by famous musicians at the Lincoln Center Concert Hall…
Ania Zofia's creations accentuate the women's sensuous flow of movement while maintaining a soft feminine look. The styles are meant to flatter a woman's body. The main goal is to deepen the meaning of the special day.
Pure silk – sensuous to the touch while giving pleasure to‍ ‍the skin and leaving a feeling of comfort and well being.
The beauty is in you. Let us reveal it.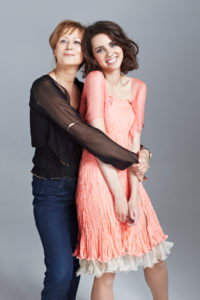 Born in Warsaw – studied at New York's prestigious Fashion Institute of‍ ‍Technology.
She opened her first atelier in New York in 1985 then later in Montreal, she produced designs inspired by the ideas of European artisans but influenced by American style and taste, under the label Ania Zofia.
She entered the market with a very original collection of leather and suede evening wear at the Gallery of Wearable Art in New York's SoHo district. Later, her hand painted silk creations have placed her in some of the best specialty boutiques throughout the United States and Canada.
"I only design clothes I would feel comfortable wearing myself. I am not interested in making a 'fashion statement' if the woman is not feeling elegant and comfortable. The creations accentuate the sensuous flow of movement while maintaining a soft feminine look. She should be able to forget about what she is wearing and enjoy the event. Having said that, I feel there always has to be that extra element, a flare for want of a better word that demands attention. It is a thing that's hard to define, it could be in the cut, an unusual colour combination, an accessory accent such as a belt or scarf – it's like the spice on a gourmet meal"
In real life an optimist with visionary artist soul.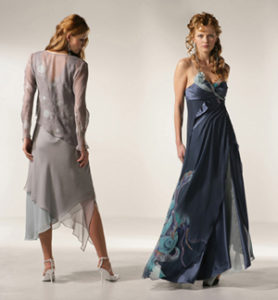 From a dignified gown of voluptuously hand-painted orchids on silk chiffon for the Mother-of-the-Bride, to a playful summer mini outfit of bright yellow flowers on crepe for a summer cocktail, Ania Zofia's designs promise to‍ ‍bring that extra "joie de vivre" to make any special occasion long remembered.
Ania Zofia is known for her hand painted silk. Any pattern or disign is possible, from the realistic flowers such as Tulips, Daisies, Poppies, Roses ect., to colourful abstract themes. A simple, subtle ombre is also possible.
Miles Socha of the prestigious Woman's Wear Daily, after seeing a fashion show noted:
    "Close inspection reveals the intricacy of Ania Zofia's floral
     designs, the rich colours and superb finishing of the garments…
     her hand painted silk is works of art".
I just have my fitting and I must tell you how beautiful the dress looks!
I believe I sold another mother of the groom onwearing on of yours creations. She was walkieng out of teh store when I got her attention. Venka and Robert complimented me on my technique – but that is easy to do when you believe in something that makes you look and feel fabulous.
My husband, Jeff said it perfectly to other women: " You will have the dress that is unique creation that only you wiil have."
I think it clinched the deal. Tahnk you again. Sincerely.
– Phyllis Levitt
---
Dear Ania,
I don't know how to thank you for your beautiful dress I will wear for my grandson's Bar Mitzvah. I couldn't have ever worn something so georgeous and fits me perfectly and I will be proud to be wearing one of your beautiful pieces of artwear. I will come and visit the store for your next vist.
– Joan Bieber
---
Ania,
Your beautiful dress helped make me a beautiful and very happy bride!
Warm regards.
– Kathie Dean
---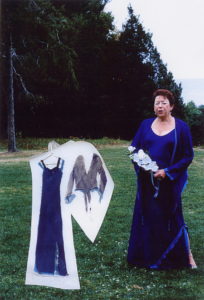 Dear Ania,
Enclosed is a picture taken at my daughter wedding in September. The gown was a huge success! I was eapeclally pleased that all the younger(in their 30's) guests loved it. Pictured next to me is a replica I created out of the swatches you sent me, so taht people who weren't coming to the wedding could see the dress. Not bad, huh?
Thank you so much for making me feel beautiful and glamorous on this special day.
Sincerely.
– Margi Kogelman
---
Dearest Ania!
I looked at all the dresses on your Facebook page.
They are truly magnificant. After all the searching I had done I was so so happy to have finally found you and have you make the most beautiful dress ever.
– Shirley Zucker
---
Dear Ania,
When I first viewed your web site and then saw your hand-painted clothes at The Elephant's Trunk in Mt.Kisco, New York, I knew I had found a designer who would be responsabile for the "mother of the groom" dress for my son's garden wedding.The dress you customized for me is elegant.The soft flow of the fabric, the remarkable pallete of colors, and impeccable workmanship made me feel wonderful wearing it. Needless to say, I Received many, many compliments and queries as to "where did you get your dress and who designed it?" I was most happy to tell friends about your artistry. Thank you for being to incorporate my own desires and produce a unique special design for this very special occasion. I look forward to owning more of your "works of art".
Sincerely yours.
– Patricia S. Levinson
---
Dear Ania,
I just picked up my dress nad it is gorgeous. It fit perfectly and is exactly what I wanted.
I wanted to thank you for all the time and attention you took.It was a wonderful experience.Best wishes for a great summer.
Sincerely
– Wendy Bender
---
Ania,Words cannot express the way I felt wearing one of your gowns.
I received so many complements on my gown. I told everyone who the designer was.
I thank you and your family from the bottom of my heart.Love to you and your family.
– Laura Miller
---
I'm still getting compliments on your beautiful creation!
Thanks again.
Sincerely,
– Amy Einziger
---
I have to thank you for all your help with getting me ready for the event.The dress was beautiful & felt wonderful on – which gave me the confidence I needed to get through the stressful bits.It also pushed me along to go to the pharmacy & get the girl to teach me how to make a bit more of myself with more adventurous makeup.
Kind regards
– Evelyn Lewis
---
You do such beautiful work! You can't imagine how many people asked who designed my dress!I could be your spokeswoman…loved, loved, my dress!
– Alice Katz Sowin
---
I am ever so happy to have selected my wedding dress. The design of this dress with the lovely jacket are so simple, elegant and the fabric is beautiful.I will feel like I am wearing a piece of art…
Thank you for everything.
– Tina Peacock
---
Ania,
you made me feel beautiful on a very important day, you added joy to my life.
-Vickie Dubrovsky
---
Hi Ania I went Friday to see and try on my jacket and dress .. I am so excited It Is Perfect and I love ❤ it!!!
Thank you so much again you are the bearee the best!
Thank you getting a dress for me makes me feel qorgeous and look beautiful!!
Everyone loved my dress and I felt like a million dollars.
– Terri Cohen
---
Thank you for all of your help this year, your beautiful creative mind. I have had nothing but compliments regarding my dress that I wore at my daughter's wedding in September.
– Marsha Mann
---
Dear Ania,
I am wearing my absolutely beautiful red poncho today on the train to New York. I feel utterly glamorous. It drapes so beautifully and is surprisingly warm too! And the vibrant color lights up the winter day! You spoil me rotten and I want to be sure you know how much I appreciate it. Thank you and thank you!
– Diana Gubbay
---
Hi Ania,I could have danced all night in my beautiful dress!  Thank you!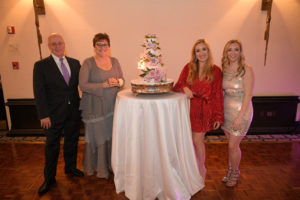 –Valerie Sprague